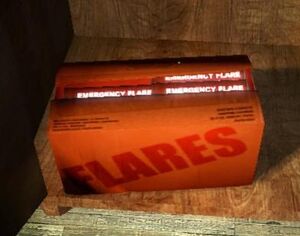 The Box of Flares is a item found in The Garage, it is located in a closet next to the Axe.
Purpose in Prologue: The House
Edit
Purpose in Chapter 1: The House
Edit
Used as a light source after undigging the well.
Used to start fires in the Tunnels.
Purpose in Chapter 2: The House
Edit
Purpose in Chapter 3: The House
Edit
Purpose in Chapter 4: The House
Edit
Purpose in Epilogue: The House
Edit