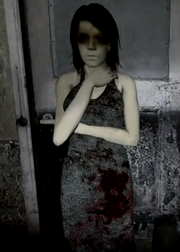 Emily Romero
is a character in Nightmare House 2 that tecnically exist in Underhell as well. She is the deceased wife of
George Romero
and her spirit haunts the
Never Lose Hope Hospital
.
Emily Romero does not have any appearance in Underhell.
Emily Romero will not cross over in Underhell's storyline.
Players of both Nightmare House 2 and Underhell often assume that Emily Romero is Jake Hawkfield's Wife

. This is false, both Emily and Mrs. Hawkfield are two seperate characters.

Note that the textures for

Emily is different compared to both of the textures for Jake's Wife.

Emily Romero has very similar traits to Jake's Wife, however Emily is audibile while the latter is not.
Ad blocker interference detected!
Wikia is a free-to-use site that makes money from advertising. We have a modified experience for viewers using ad blockers

Wikia is not accessible if you've made further modifications. Remove the custom ad blocker rule(s) and the page will load as expected.