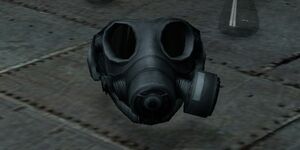 The
Gas Mask
is a type of equipment used to filter toxic gas and oxygen for breathing. When the player is wearing it, he cannot drink or eat.
Purpose in Prologue
Edit
Purpose in Chapter One
Edit
Found in the Lower Labs (Maintenance).
Jake later puts his mask on Mia to prevent her from suffocating.
Ad blocker interference detected!
Wikia is a free-to-use site that makes money from advertising. We have a modified experience for viewers using ad blockers

Wikia is not accessible if you've made further modifications. Remove the custom ad blocker rule(s) and the page will load as expected.