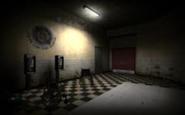 Never Lose Hope Hospital is a place located just outside The City. It is also the setting of Nightmare House 2, another Half-Life 2 mod, and is one of the few elements that crosses between it and the Underhell storyline. Jake Hawkfield is a regular patient of the hospital.
In Underhell during The Prologue, Frank can mention the situation in NLHH that happens during Nightmare House 2. Jake was originally assigned to the hospital until hostage situation came in. Instead of him Alpha Squad was sent there.
Ad blocker interference detected!
Wikia is a free-to-use site that makes money from advertising. We have a modified experience for viewers using ad blockers

Wikia is not accessible if you've made further modifications. Remove the custom ad blocker rule(s) and the page will load as expected.