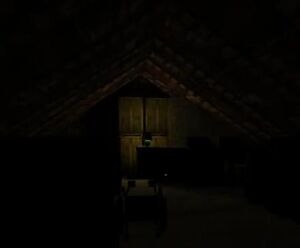 The Attic is a room in The House. It is adjacent to The Bedroom. It's also one of the sightings of Jake's Wife.
Items Found
Edit
She appears when entering and/or exiting The Attic at night. Exiting The Attic will make only her hand visible, while entering the attic will cause her to show up in your face.
It appears at certain times; objects will come flying at you.
When you first leave The Attic, she will sometimes be climbing down the ladder.
She can appear on a wheelchair for a second.
There is a map in the attic showing later locations of The House.